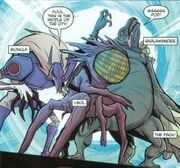 The Pack
? is a group of?
E.V.O.s
? working under the command of Van Kleiss.
In Ben 10 Comics EditEdit
They appear on the Action Pack 65, where they enter into a dimensional portal and arrive in the Land of Ben in search of something or to escape the Rex team, elos are eventually followed by the team of Rex (Rex, Six and Bobo) . To stop Ben, Gwen and Kevin are joined by Rex, Six and Bobo.
The Pack? (the article on the Generator Rex Wiki)