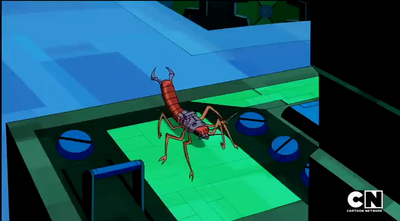 The Technobug is one of Dr. Animo's creations.
They are cybernetically enhanced red earwig bugs with technological parts integrated into their upper bodies, as well as metallic forceps on their abomens.
Powers and AbilitiesEditEdit
They can hack into computer systems and take control of any technology, even advanced Plumber technology. When threatened, they can give off electrical shocks and can adhere to circuitry, making them very difficult to remove.
It can be stepped on by creatures bigger than itself and be eaten by insectivores like the Galvan or destroyed by a Gourmand (such as Upchuck).
Ben 10: OmniverseEditEdit
Technobugs are similar to Cybermites from Doctor Who.
Community content is available under
CC-BY-SA
unless otherwise noted.