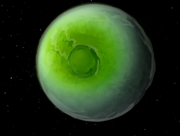 Galvan Prime
is the home planet of the
Galvan
and has at least one moon,
Galvan B
, home of the
Galvanic Mechamorphs
. Its sun is called 
Galvan
.
Galvan Prime is one of the most scientifically advanced worlds in the galaxy. Miniature skyscrapers and ultra-fast causeways litter the landscape, leaving little room for nature.
Their form of government according to Derrick is a technocracy.